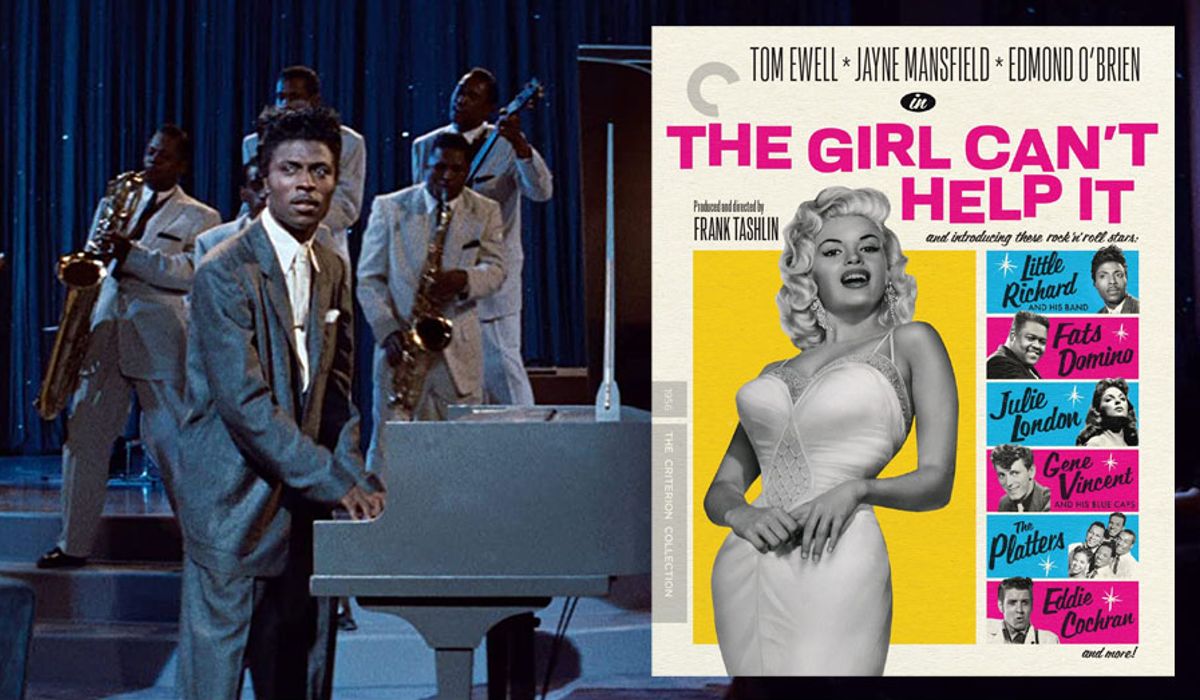 "The Girl Can't Help It" Blu-ray Movie Review
[ad_1]
Looney Tunes maestro Frank Tashlin embraced the musical comedy genre in 1956 with an influential live-action rock and roll classic featuring Cinemascope and DeLuxe Color visual assortment.
Girl can't help it (Criterion, unrated, 2.36:1 aspect ratio, 98 minutes, $39.95) now offers a stunning home theater debut in high definition format with a new near-pristine restoration taken from the original 35mm camera negative.
Jayne Mansfield stars, embracing her platinum blonde bombshell persona, as Jerri Jordan – a rising, reluctant singer.
Threatened by loud mobster Fats Murdock (Edmond O'Brien), music agent Tom Miller (Tom Ewell, who co-starred with Marilyn Monroe a year earlier in lucky "The Seven Year Itch") is forced to do her a star, but all Jerri wants to do is cook for Tom as she begins to fall for him.
Despite the comedic high-level performances, the real stars of the film are the cavalcade of musicians unleashing this crazy new genre of music. The consistent and wild on-screen promo features legendary performances from Little Richard, Gene Vincent, Eddie Cochran and Fats Domino to name a few.
Equally powerful is the visual power of Tashlin and cinematographer Leon Shamroy. They often treat the film like a cartoon, rich in saturated colors and offering madness in laughter as Jerri (a living incarnation of Jessica Rabbit) walks down the street in a tight-fitting dress as delivery men discover that a block of ice melts rapidly in his presence. or boiling milk above a bottle while a stunned spectator has cracked glasses.
Visuals often sport a bath of blue lighting, whether on a hotel balcony or tinted white walls, a fridge or Mansfield's blonde hair. However, the colors often explode on screen, referenced by singer Nino Tempo's red dress, the shimmering purple curtains of a nightclub, Jerri's red lipstick or a shiny red 1956 Lincoln Premier convertible.
Overall, viewers enjoy a ridiculously entertaining and colorful nostalgia trip that it's perhaps impossible to believe existed in the 1950s.
Best extras: Criterion features a selection of newly created archival content and information, beginning with an optional commentary track originally released with the 2006 DVD release of the film.
Viewers can listen to Toby Miller, a cultural studies researcher and professor of film history at the University of California Riverside, offer his thoughts on story details, the characters' perceived motivations, and even add psychological profiling. He's definitely lectured and injects opinions into his analysis that don't necessarily reflect the filmmakers' intentions. His analysis becomes more interesting when he talks about musical artists and their careers.
For what's new, start with a pair of disc jockeys – WFMU's Gaylord Fields and Dave "the Spazz" Abramson – making each other laugh for 30 minutes as they delve into the history of early rock and roll movies, then hone in on "The Girl I Can't Help It. They cover the backgrounds of on-screen artists such as The Chuckles, Nino Tempo, and Eddie Fontaine, and offer production and cast details far beyond just music.
Then, watch critic David Cairns for 16 minutes on the shooting techniques and color strategies the director and cinematographer used to deliver the overtly vibrant and somewhat surreal visual presentation, then move on to a biography of 14 minutes rich in information about Mansfield from the biographer. Eve Golden covering her rise and fall and her love-hate relationship with the press.
Additionally, viewers receive a 40-minute 2017 episode of Karina Longworth's "You Must Remember" podcast covering dead blondes and focusing on Mansfield.
Finally, the Blu-ray contains a massive 21-minute interview from 2004 with cult filmmaker John Waters about his love for film and early rock and roll. He puts no effort into a film he considered "celebrating the beauty of bad taste" and filled with his memories of Mansfield, singers and bands.
The packaging also includes a 12-panel fold-out brochure featuring an essay by film critic Rachel Syme and restoration information.
And, for added enjoyment, a 12-page booklet features excerpts from Tashlin's 1952 book "How to Create Cartoons" visualizing the SCOT Art (Square, Circle, Oval, and Triangle) technique with a new introduction by the historian. Ethan from Seife.
[ad_2]
Source link