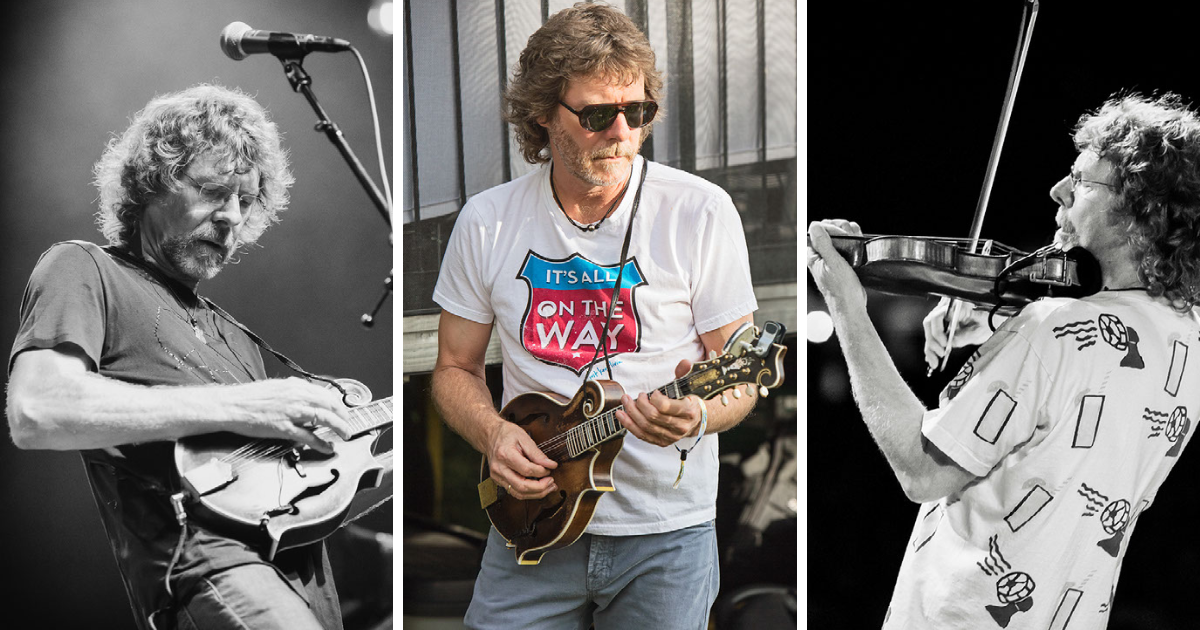 Sam Bush is influencing the next generation of bluegrass musicians | Music
[ad_1]
It's time for Sam Bush to get back to making his own music.
Over the past four months, Bush has been on the road with two different acoustic music supergroups. Last year, the great mandolin and violinist appeared on Bela Fleck's "My Bluegrass Heart" album and toured with his all-star cast: banjoist Fleck, dobro player Jerry Douglas, violinist Stuart Duncan, bassist Edgar Meyer and guitarist Bryan Sutton. The band performed a stellar gig in early December at the Sheldon Concert Hall & Art Galleries.
More recently, Bush has performed music from the 1999 classical/bluegrass chamber music crossover release "Short Trip Home", which featured Meyer, Bush, mandolinist Mike Marshall and violinist Joshua Bell (replaced on current tour by George Meyer, son of Edgar).
That's a lot of complex and demanding music to keep up with, not to mention rapid shifts in speed from one project to another…and then to another.
"If anything, it's been really good for me, because now it makes me look forward to getting back with my band," Bush said by phone from Washington, D.C., where he's playing one of the last dates of " Short Trip Home".
He only started exploring the musical possibilities of the latest edition of the Sam Bush Band, which added banjoist Wes Corbett in late 2019, just before the pandemic shut everything down.
Besides Bush and Corbett, the band includes drummer Chris Brown and guitarist Stephen Mougin.
"One of the things I want to do with the band is look back a bit, especially since New Grass Revival entered the Bluegrass Hall of Fame in 2020," Bush said. "I'm probably going to work on some of those types of tracks this year and pay homage to that band."
He also has an as-yet-unreleased album to build on, should he choose to. Bush recorded it almost entirely on his own during the pandemic.
New Grass Revival, of course, were the groundbreaking progressive bluegrass band that, from 1970, broke with the genre's deep-seated traditions and pushed their boundaries. From covering rock and reggae music from the Beatles to Bob Marley to wearing jeans and long hair, the band members weren't trying to disrespect the music or the musicians. They were just themselves.
"Growing up in the '60s was what I could see on TV," Bush says. "On 'The Ed Sullivan Show,' I got to see the Beatles, the Rolling Stones, the Jefferson Airplane. the syndicated shows of country music stars on the Grand Ole Opry – Porter Wagoner, the Wilburn Brothers, Bill Anderson My favorite was the half hour show from Flatt & Scruggs.
Radio, on the other hand, was "a whole big, wonderful conglomeration," Bush recalls. "You would hear Marvin Gaye right after the Strawberry Alarm Clock right after the Singing Nun, or Mary Hopkin, or the Beatles.
"It was a time of experimentation, and I think that just showed in what we were doing."
Some in the bluegrass universe, however, weren't amused.
"I think there was a perceived divide, but maybe it was a lot more from the public's perspective," Bush argues. "The bands have always been great with us – the Osbourne Brothers, the Country Gentlemen, the Dillards. It was well known early on that Bill Monroe didn't care about our kind of music, but even Bill over the years has gotten to that. where he booked us for festivals.
Bush and other progressive bluegrass players refer to festival goers who pull out as soon as the non-mainstream acts take the stage as "the chair snappers".
"We could get a bigger response from chair snappers than anyone on the festival circuit," he laughs.
Over the years, Bush has recorded albums under his own name, but has also performed as a member of Emmylou Harris and Lyle Lovett's Nash Ramblers band. He recorded with… well, pretty much everyone, but to name a few: Garth Brooks, Doc Watson, Guy Clark, his friend and former bandmate Tony Rice (who died in 2020), John Hartford, Alison Krauss , And so on.
Decades of appearances at the Telluride Bluegrass Festival – often as a member of Strength in Numbers, or as Bush calls it, "the Telluride House Band", which essentially includes the band from "My Bluegrass Heart" – led Bush to be crowned "King of Telluride".
His work led him not only to the Hall of Fame, but to his status as an influence on the younger generation of bluegrass/newgrass/jamgrass/jam band music.
"That's interesting," Bush thinks. "Now when you turn on the bluegrass channel on satellite radio, I can hear the influence of the newgrass boys passing by – us and JD Crowe & the New South, and the Country Gentlemen."
He adds with a laugh, "We were the kings of chair snappers; now we are the establishment.
What Sam Bush • When 8 p.m. February 17 • Or Delmar Building, 6133 Delmar Boulevard • How much $35 to $40; proof of COVID-19 vaccination or negative test required • More information ticketmaster.com
[ad_2]
Source link