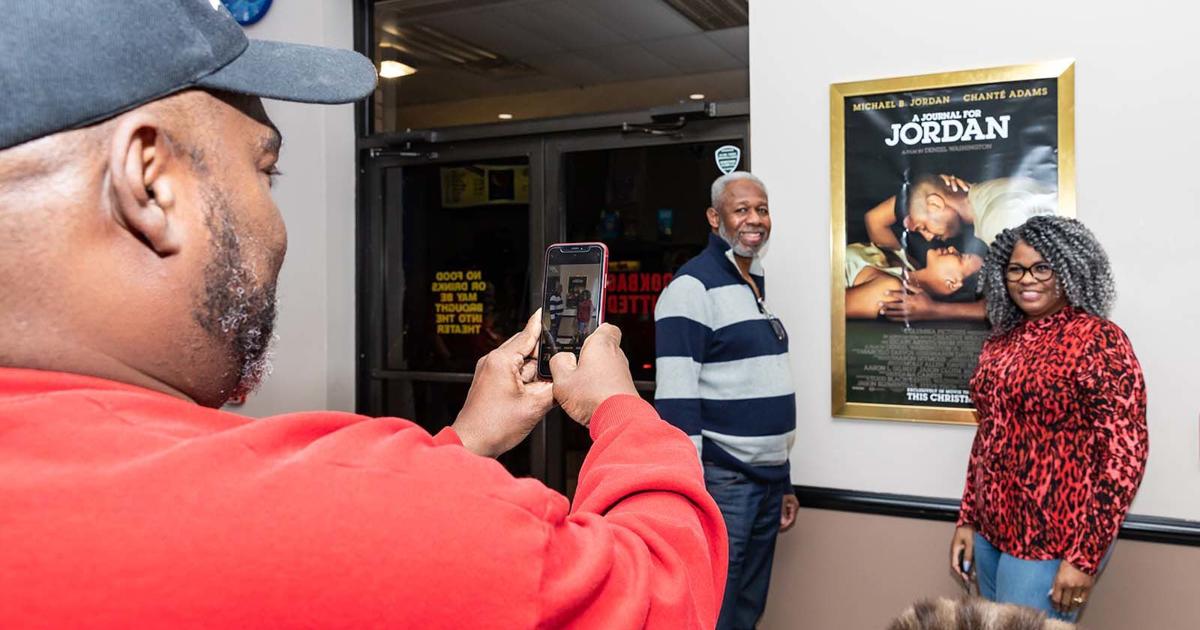 Radcliff enjoys preview of film with local tie | Local news
Hollywood came to Radcliff as members of the community were able to attend a private screening of "A Journal for Jordan" on Monday ahead of its national release on Christmas Day.
The film, whose screenplay was developed from a New York Times bestseller of the same title, is based on events in the life of Dana Canedy, which many viewers know personally.
Directed and produced by Denzel Washington, it stars Michael B. Jordan and Chante Adams.
"A lot of the people who were there were my church family," said Radcliff resident Penny Canedy, Dana's mother, in an interview in New York City where she visits Dana while she promotes. of the movie. "I wanted to share it with my church family and others in the community because I am a proud mom. I wanted to share this happiness and this film with them.
Dana Canedy, who grew up at Radcliff and graduated from North Hardin High School, is a Pulitzer Prize-winning journalist who previously worked for The Times and is now senior vice president and editor for Simon & Schuster.
In previous interviews with Company-News, Canedy said the book was a way for her to deal with grief after her fiance, U.S. Army Sgt. 1st Class Charles Monroe King, was killed in the Iraq War.
Canedy was inspired by a journal in which King wrote life lessons for the couple's son Jordan and intertwined the entries with Canedy's memories of the couple and their love affair.
"(Charles) is not with us, but he left a legacy of love, my nephew (Jordan) and the love he and my sister shared," said Lynnette Canedy-Durham, Dana's sister, to the public before the screening.
"I think we all think it was really nice to have old friends, family members, classmates to support us," she said after the screening. "It gave us another opportunity to share the story and put Charles first, which he is meant to be."
It took Canedy a decade to make the film, as Washington secured the rights to the film years ago.
"It was an amazing process to watch," said Lynnette. "The process was a great journey to take to bear witness to (Dana's) resilience, to her strength. … We're just very proud of her.
Gloria Fite, pastor of the All Nations Worship Center in Radcliff, of which Penny is a member, was in the audience on Monday and said it was the third time she's seen the movie because she attended the New York premiere and another screening before Monday.
"Seeing (Dana's) Radcliff family show up today so they could celebrate was special," she said. "I cry every time. It was amazing from every actor who played the roles and Chante Adams did an amazing job as Dana.
Although none of the scenes were shot locally, they were so similar that Sheila Binford, Canedy's former neighbor, from Vine Grove, recognized the family van when Dana came home in a scene from a movie and said that the dead end was the same.
"(Thomas Canedy Sr.) had this van since when we lived there," she said. "I kept trying to imagine what they would look like instead of the people playing them. It was very, very similar.
Eleanor Guerrero, who has known the family for years and remembers meeting Jordan when he was newborn, said people who see the movie can expect to shed a tear or two.
"It was well organized," she said of the film. "Denzel did a good job. Dana did a good job.
Coming from a military family, some scenes take place particularly close to home, but the film will appeal to a larger audience, said Rineyville's Glynis Bond.
"The movie was totally, totally amazing," she said. "I'm so glad I came to see him."
It's a film Bond is sure to encourage others to see.
"As soon as I get home, I text everyone telling them to go see him when he comes out on December 25," she said. "You will not be disappointed."
Dana's brother Thomas Canedy Jr. said the film was "correct" in portraying his sister's personality, including her stubborn side, joking that he looked away during some love scenes. .
The film also had King's hand, Thomas said.
"God was setting things up," he said of the development of the book and the making of the film. "We don't know why it happened, but it happened and the pieces fell into place in such a unique way, so we know that was (Charles) behind the whole story."
Penny hopes the film's message resonates with moviegoers.
"I hope and pray that everyone who sees this movie will know that it is going to affect their life in one way or another," said Penny. "It's a film about life, about loving and loving our loved ones and our families, our loved ones and those around us. I hope the audience takes something into their hearts and into their lives in a positive way.