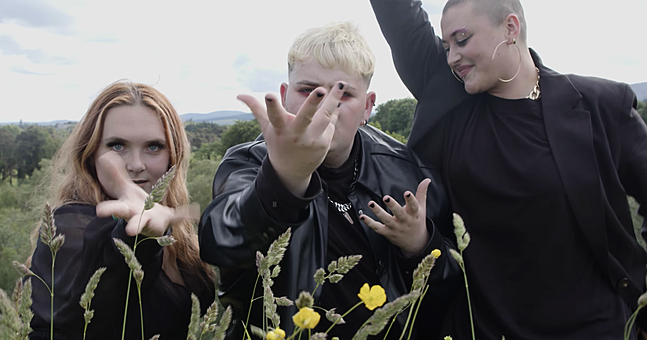 PREMIERE: Viscose brings dance music to the Irish desert in new visuals for "ILY"
Aaron Cumiskey, who goes by the name of Viscose, shared the video for breezy electronic pop track 'ILY'
Queer escapist producer and musician Viscose has brought rave energy to the natural landscape in the new video for 'ILY' – featured below by Hot Press.
The rising talent draws inspiration from Lady Gaga, Kylie Minogue, Dua Lipa and Dagny, pairing her electro-pop sound with sophisticated, sultry synths.
Nu-disco dance/pop gem 'ILY' explores the fear caused by the prospect of relationships and connections.
The Irish electro-pop artist continued his loyalty to dance music on Aaron's third single, written by himself with production work by Steve James. Viscose's love of dance, house and pop stems from his love of LGBTQ culture, particularly the club scene for queer creatives. Viscose emphasizes that pride is the way to go when it comes to self-love and making your mark on the music scene.
After debut single "Been There" hit over 60 countries, racking up over 20,000 streams on Apple Music, Viscose returned with dance/pop anthem "Peace of Mind" last October about battling a disorder anxious. As a skilled producer, Viscose also curated various hit songs for other artists, including It's Just Cat ("Slipping"), Mack Johan ("Encore"), and Apollo Monroe ("Soda Pop").
2019 saw the release of the singles "Cry, I Walk" and "Lost & Found", which caught the attention of bigger names in the industry. The self-care anthem "Been There" featured the work of Steve James, a producer known for contributing to the music of Justin Bieber, Little Mix and Martin Garrix.
"There's something about expressing a certain feeling not just in words, but also in the texture and format of the instrumentation. Dance music doesn't always have to have a happy story. behind her," Viscose told Hot Press of her rhythmic soundscapes.
The musician is ready for a year full of exciting releases, visuals and projects – starting with the video for "ILY". Featuring two sidekicks and creatives in their own right (it's just Cat being one of them), Viscose dances and embarks on a fun makeover while stomping through the Irish forest.
Check out the new video below: