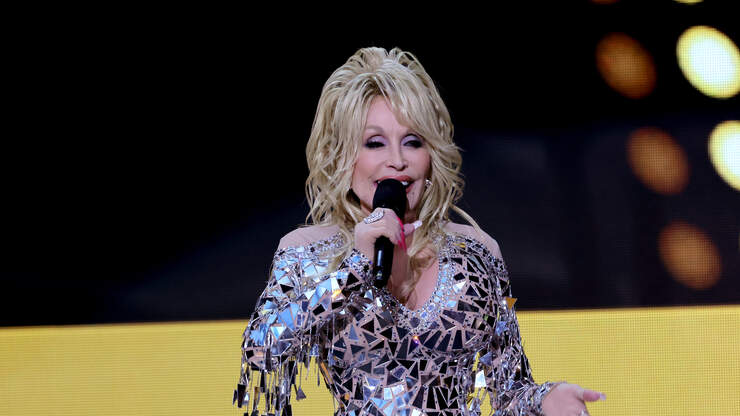 Music: Dolly Parton has withdrawn her Rock and Roll Hall of Fame nomination
Dolly Parton has her name removed from Rock and Roll Hall of Fame nominations
You can relax, rock purists. . . DOLLY PARTON removed his name from this year's Rock and Roll Hall of Fame review. She was one of seven first-time nominees and last night was fourth overall.
But there was an immediate backlash from those who thought Dolly was not a good fit. Looks like she heard all the blame and didn't want to get involved. Here is what she posted yesterday on social media:
"Dolly here. While I'm extremely flattered and grateful to be nominated for the Rock and Roll Hall of Fame, I don't think I've earned that right.
I really don't want the votes split because of me, so I must respectfully bow out.
"I hope the [Hall] will understand and be willing to consider me again. . . if I'm ever worthy." She added, quote, "It inspired me to release a great rock 'n' roll album hopefully at some point in the future which is what I've always wanted make."
The Rock Hall has inducted several country artists, including Johnny Cash, Chet Atkins, Floyd Cramer, Bill Monroe, Hank Williams, Bob Wills . . . and the father of country music, Jimmie Rodgers.
Read more HERE
Jack White urges labels to build their own vinyl pressing factories
Jack White speaks directly to major record labels through an open letter and video. What is his request? He wants them to build their own vinyl pressing plants. White is no stranger to this, as "Third Man Records", which he owns, has its own vinyl pressing plant. They even opened a new store last year in London.
This open letter comes in light of the massive delays the vinyl industry has suffered due to the pandemic. This affected many smaller artists by causing them to delay the release of their albums. White began his post by saying, "At least once a week, without fail, someone will contact me to ask me to help expedite the making of their vinyl record. It's a natural thought… knowing that I own a pressing plant and have my own label, "if anyone can help me, it's this guy!"
He also went on to say that major record labels building their own factories are a "no-brainer". "We have ALL created an environment where the unprecedented demand for vinyl records cannot keep up with the rudimentary supply of them. We are all on the same team with the same goals. faith in the infrastructure that brought us here, we can continue on this upward trajectory and further inspire the worlds around us. The time is right."
Read more HERE
METALLICA played their first concert exactly 40 years ago
Monday, March 14, METALLIC celebrated the 40th anniversary of the group's first-ever concert by sharing a first flyer promoting the concert.
Read more HERE
Incubus and Sublime announce US tour
Houston Show on August 19 at the Woodlands Pavilion
incubus and Sublime with Rome are touring across the states this summer. They will receive support from Aquadolls. It kicks off in West Palm Beach, Florida on July 24 and ends September 3 in Bend, Oregon. "We just announced our summer tour…the vibes are already 10/10," Incubus shared via Twitter.
Tickets go on sale this Friday, March 18 at 10 a.m. local time. Click here for the full program.
We have tickets for the Fun Fact Flash Back at 6:35. Good luck!
Read more HERE
Pearl Jam finally reschedules the "Gigaton" tour
pearl jam fans have been anxiously awaiting news of the rescheduled dates of their "Gigaton" tour for two years, which were cut short due to the pandemic. Well, they have finally been revealed.
The band just announced the postponed trek, scheduled for May and September, with four new shows added in Fresno, Sacramento, Las Vegas and Camden, New Jersey. The originally scheduled show in Baltimore was canceled due to the venue closing for renovations.
A Ticketmaster Verified Fan sale begins on March 29.
Click here for the full schedule.
Read more HERE
Daryl Hall was asked to join Van Halen when David Lee Roth left?
Many people were shocked when they learned that SAMMY HAGAR replaced DAVID LEE ROTH in VAN HALEN. But I wonder how much worse the reaction would have been if THAT had happened:
DARYL ROOM . . . you know, the blonde HALL & OATES . . . complaints EDDIE VAN HALEN asked him to replace Dave.
Shortly after Dave left, Eddie and his then-wife VALERIE BERTINELLI came to a Hall & Oates show. And after the show, Eddie reportedly popped the question.
Daryl says, quote, "Eddie said, 'You wanna join Van Halen, man?' He was half joking, but I think he was serious, I really believe he was serious.
"And I took it seriously. I went, 'Meh, I don't think so. I think I got mine [stuff] past.'"
Read more HERE
Rod Stewart helped fix a local road so his Ferrari could drive on it
ROD STEWART helped fix a local road that had been ignored for too long. He said he couldn't drive his Ferrari on it anymore and the other day an ambulance had a flat tire because of all the potholes.
Read more HERE