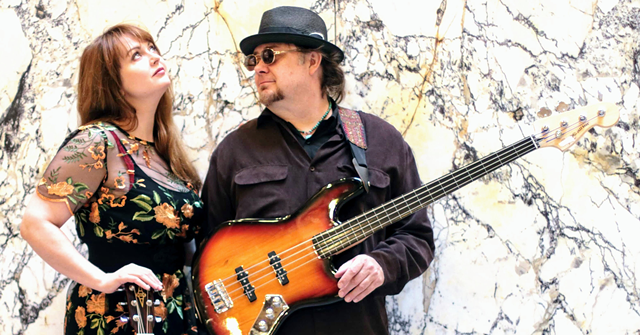 Mary Monroe and the Spiritual Healing of Music and Dance | Musical features
There seemed to be no need to worry. Mary Monroe and her partner, Nate Coffey, were fully immunized this afternoon of August 8, a celebration of the life of their friend, Dan Murphy. Murphy, 65, owner of Murph's Pub in Stutson Street Plaza, had died suddenly a few days earlier.
And now, Monroe, Coffey, and a few other musicians who had performed on Murph's stages – both at Stutson Street and at his long-standing former location on Titus Avenue – were singing their friend's memory down.
"When we went to Murph's funeral, everyone was there, shoulder to shoulder, crammed inside," Monroe says. "I mean, there were also a lot of people outside. But I was inside most of the time and sure enough I was performing and things like that. And everyone is crying and kissing, you know. And that's probably the most people I've met since COVID, and we're pretty sure that's where it came from. "
At first COVID came for Coffey, then it came for Monroe.
"You know when you get the flu you really feel bad? " she says. "Well, it was like that, but like three times worse. So it hit me really hard, and I got sick very quickly. The aches were so intense it was almost unbearable. And then I had a high fever, I was hallucinating and I couldn't breathe.
"I was talking to people who weren't in the room and all that. And Nate was shaking me, 'Who are you talking to?' "
Coffey has made a full recovery. Monroe still feels the aftermath, including persistent fatigue that sometimes makes her sleep until noon. And there is this "brain fog, but it's normal". Maybe not normal for Monroe before the pandemic. But normal for people, she says, who have pushed their way through the virus.
Even though the brain fog still dissipates, Nate and Mary's world music quartet is playing a show on Saturday at 8 p.m. at 75 Stutson Street, a former church in Charlotte.
The World Music Quartet, as the name suggests, performs internationally inspired music. Spiritual sound, with some songs inspired by Middle Eastern culture. Music like "Ohms", composed by the band's saxophonist, Tommy Gravino. And a meditative piece called "Keertana", in Arabic for a spiritual state of mind.


The original ambitious plans for the October 16 show were to bring in Bakiti Kumalo, a bass player who also performed with Paul Simon and played on Simon's album "Graceland".
But Coffey and Monroe's COVID experience caused them to scale down the event. "I didn't want to get carried away in a room full of people anymore," she says. So no Kumalo.
It's music accompanied by dance. This is how Monroe created The Glowing Goddesses, a dance group made up mostly of half a dozen women, who join the World Music Quartet on stage with their fusion of modern dance and belly dancing. "It's so liberating, it's not as restrictive as ballet," Monroe says. The Glowing Goddesss has previously joined The Buddhahood of Rochester for a one-piece performance called "Through the Veil". And Coffey wrote a song, "Angel," in which The Glowing Goddesss performed in the dark, with LED lights attached to wispy wings.
"Some of them are 50 and over," Monroe says of the dancers, "and a lot of them feel alive, beautiful and vibrant again, doing this kind of dancing. It really gives you more confidence and just makes you love yourself more which is a beautiful thing about this dance.
Just call it a life perspective, or call it something deeper. "Music and dancing are a great way to connect with your divine consciousness," says Monroe. "These are the times, when I'm dancing or playing music, that I'm most connected."
Monroe says dancing was her first love. She was studying ballet when she was 6 and took lessons until she was 10, when they became too expensive for her parents. So Monroe started babysitting and put that money back into dance lessons.
Still, there was something more to being a Monroe, and it soon became apparent. His father was Dennis Monroe, one of Rochester's best-known folk musicians. A versatile musician. "He was a master at everything he played," she said. He transmitted to him his affinity for the guitar, the piano, the ukulele, the violin and the voice. More recently, she has engaged in bass.
And there is the harp. It's the instrument most people think of when they think of Mary Monroe, the musician.
There was also Monroe, the triathlete, a sport equally divided into swimming, cycling and running. But after injuring her spine and having neck surgery, it was over. A year ago, Monroe's neurologist suggested that her recovery might be aided by gentle movement.
And dancing is back in her life. He was eager to get back to dancing and music – and "two kids I wasn't ready to say goodbye to," she says – who got Monroe through the worst days of her COVID.
And she says she did it with the help of recently deceased friends, "letting me know it wasn't my time."
Monroe says her mother "knew I was a very spiritual person from the day I was born." Monroe was the kid who delivered messages at the funeral and read for his friends. "Or I lay my hands on people and they could feel this energy, the healing energy of me," she said. "And I didn't know, I wasn't trying, it was part of me. And then I learned more, I intentionally tried to open up more.
"It wasn't something I wanted or was looking for. I pushed it away. I just want to play music and dance.
Monroe was 28 when her father died of a heart attack in 2006, "and that's when it all started to happen."
It still happens.
"I really felt him around me and I constantly feel his love around me and his presence," she says. It's the same with some friends who have died in the past two years. Musicians, above all. She feels them, she says, "Like a waterfall of colors flowing through your music and super extreme energy."
"Fortunately, I am a spiritual person and I can feel them around me," says Monroe. "And sometimes I can feel them playing through me. Quite often it can be like an out-of-body experience, sometimes while I'm playing.
And there is this most recent loss.
"Murph has come to see me several times," she said. "One time I just felt that cool breeze. And when they're there, it feels like they're really there, when they were physically alive. So when they visit me, I'm like, 'Oh my God, they're here. "I just know that.
After loss comes healing. Monroe calls himself a spiritual medium. And a practitioner of reiki, energetic healing.
"We all have the capacity, if we're not afraid to open up to it," she says. "Our brains are pretty phenomenal things."
Jeff Spevak is WXXI's Arts & Life Editor and Journalist. He can be contacted at [email protected]