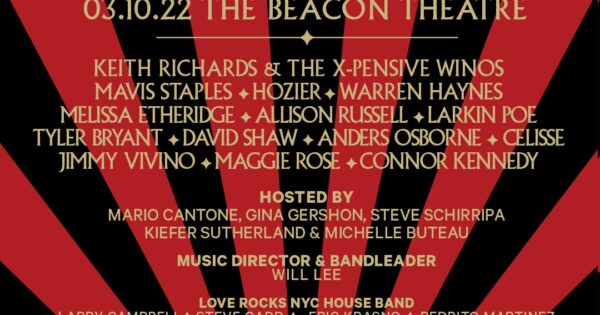 Keith Richards to headline Love Rocks NYC benefit concert – NYS Music – NYS Music
Keith Richards and The X-Pensive Winos will headline the Sixth Annual Love Rocks NYC Benefit Concert at the Beacon Theater on March 10.
The fundraiser lineup also includes Mavis Staples, Hozier, Warren Haynes, Melissa Etheridge, Allison Russell, Larkin Poe, Tyler Bryant, David Shaw (of The Revivalists), Anders Osborne, Celisse, Jimmy Vivino, Maggie Rose, Connor Kennedy (from Steely Dan) and more to come.
John Varvatos, the world-renowned fashion designer, will serve as the show's executive producer. It will be hosted by Mario Cantone, Kiefer Sutherland, Gina Gershon, Michelle Buteau and New York icon and Bensonhurst native Steve Schirripa.
Love Rocks NYC will benefit God's Love We Deliver, a non-profit organization that delivers meals to people too sick to shop and/or cook for themselves. Founded in 1985, during the AIDS epidemic, God's Love We Deliver, remains active during the COVID-19 pandemic. Last year alone, it delivered 2.6 million meals to around 10,000 New Yorkers.
This year's event will also mark a milestone in God's Love We Deliver history with the delivery of its 30 millionth meal. Since its first concert in 2017, Love Rocks NYC has raised approximately $20 million which has helped fund 2 million meals for New Yorkers in need.
Tickets for Love Rocks NYC go on sale Feb. 17 at 10 a.m. and are available on the concert website.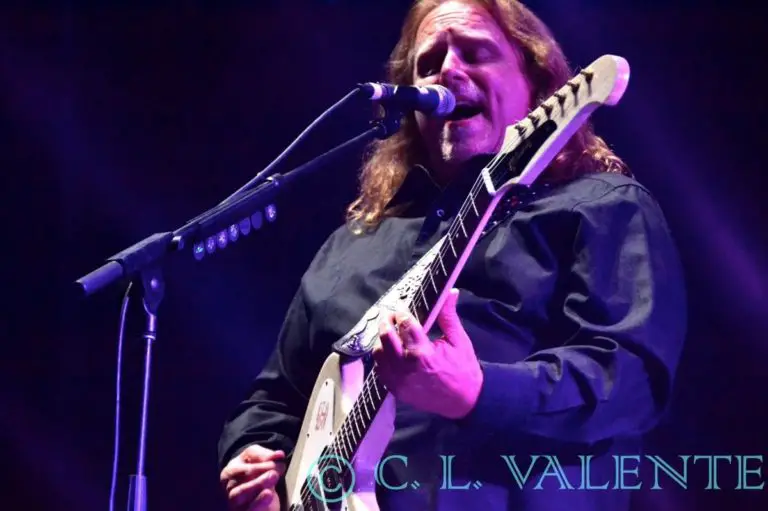 Longtime Allman Brothers Band guitarist Warren Hayes will be taking a break from his solo tour specifically to perform at Love Rocks NYC. After which he will go on tour with his blues quartet Gov't Mule. The band recently released their new album Heavy Load Blues.
Warren Hayes Tour Dates
March 8 – South Deerfield, MA @ House Theater at Tree House Brewing Company
March 9 – South Deerfield, MA @ House Theater at Tree House Brewing Company
March 10 – New York, NY @ Love Rocks NYC at the Beacon Theater
March 11 – Ridgefield, Connecticut @ Ridgefield Playhouse
Gov't Mule Tour Dates
April 6 – Syracuse, NY @ Landmark Theater
April 7 – Albany, NY @ Palace Theater
April 8 – New York, NY @ Beacon Theater (originally 12/30/21)
April 9 – New York, NY @ Beacon Theater (originally 12/31/21)
April 11 – McKee Rocks, PA @ Roxian Theater
April 13 – Wilkes-Barre, PA @ FM Kirby Center
April 14 – Philadelphia, PA @ The Met (originally 12/29/21)
April 15 – Erie, PA @ Warner Theater
April 16 – Chicago, IL @ Riviera Theater
April 17 – Grand Rapids, MI @ 20 Monroe Live
April 19 – Fort Wayne, IN @ Clyde Theater
April 21 – Memphis, TN @ Soundstage at Graceland
April 22 – Little Rock, AR @ The Hall
April 23 – St. Louis, MO @ The Pageant
April 25 – Oklahoma City, OK @ Jones Assembly
April 27 – Mobile, AL @ Saenger Theater
April 28 – Atlanta, Georgia @ SweetWater 420 Festival
April 29 – New Orleans, LA @ Mardi Gras World #
April 30 – Tuscaloosa, AL @ Druid City Music Hall
June 3-5 – Chattanooga, TN @ Riverbend Festival