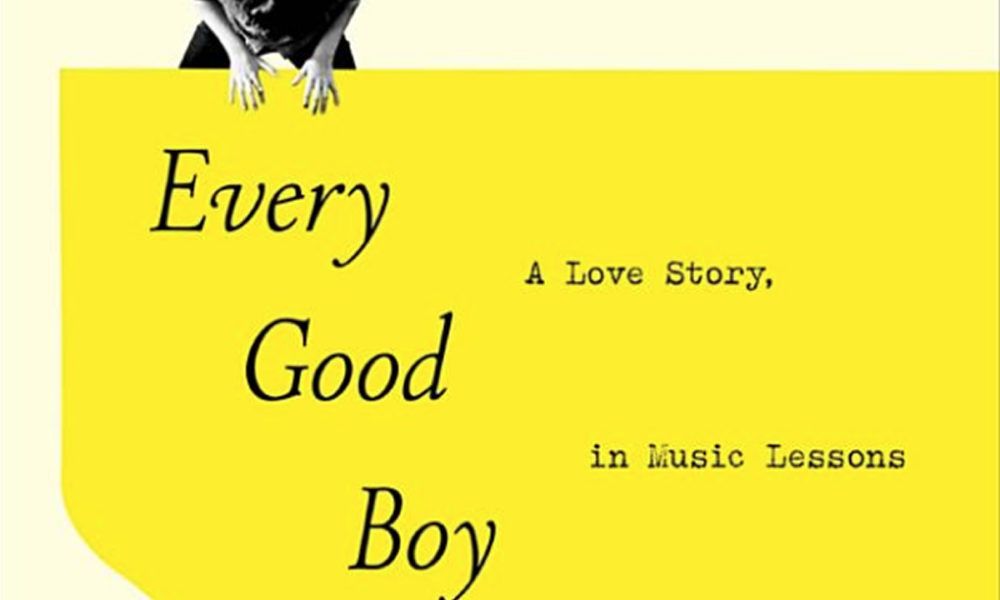 Jeremy Denk's memoir proves he's as good at words as he is at music
"Every Good Boy Is Fine"
By Jeremy Denk
circa 2020, Random House
$28.99/368 pages
When I was nine years old, my parents decided that I had to learn to play a musical instrument. A teacher in our town tried to put me on the guitar. "His game was outstanding," he said, aiming for tact but sounding like he'd just bitten into a kitty litter sandwich.
You might think "Every Good Boy Is Fine" the new memoirs of Jeremy Denk, the MacArthur genius-award-winning gay concert pianist, would have little appeal to Philistine musicians like me. Or that Denk's coming-of-age story would only tickle the ivories of musicians and their aficionados.
But you would be wrong. Denk, a "New York" writer, is a superb wordsmith. He is as gifted for words as he is for the piano.
The dissertation is structured around a common thread of musical lessons (in harmony, melody and rhythm). In these chapters, Denk writes with intelligence, wit, and wonderful metaphors of music and the arduous discipline and practice required to learn to play the piano.
One day, when he was 12 years old, Denk, born in 1970, bought a tape of Mozart's "Sinfonia Concertante with the Cleveland Orchestra". "I was the kind of kid who thought he already understood Mozart," Denk writes, "but could barely tie his shoelaces."
Denk, winner of the Avery Fisher Prize, began piano lessons at the age of six. It quickly turned out that he had talent.
From childhood, Denk endured the boredom of practicing the piano. "The scales were the ultimate joyless task", he writes, "endless, recursive boredom".
Denk's family moved from North Carolina to New Jersey when he was six and from New Jersey to New Mexico when he was 10.
In New Mexico, Denk took lessons from William Leland, a piano professor at New Mexico State University. At Oberlin College (which he entered at 16), he decided to become a musician.
In graduate school, Denk studied with acclaimed pianist Gyorgy Sebok and earned a doctorate. from Julliard in 2001.
Denk's writings on music and his teachers will be catnip for musicians and classical music fans. But his stories of sweat, competition, persistent criticism – nurturing his talent will resonate with everyone from athletes and entertainers to chefs and race car drivers.
Learning to be a concert pianist is not for the faint of heart. "'Why are you fucking waiting?' he shouted in my face," Denk writes of a lesson with a renowned teacher, "coating me in a good film of Scotch-flavored saliva."
Denk's biography is proof that anything that doesn't kill you makes you stronger. He came out of grueling lessons as a rock star! Denk's recordings have reached No. 1 on the Billboard classic charts.
Fortunately, "Every Good Boy Does Fine" isn't just Denk's story of professional growth. The memoir has a parallel narrative, alternately funny, sad, ironic, and heartbreaking, of Denk's personal life.
Her mother is an alcoholic. His dad is demanding. His brother doesn't know what to do with his obsession with classical music. Denk struggles to feel comfortable with being gay.
Denk knew early on that he was different from other kids. "I couldn't wait to be brave," he writes of the ecstatic moment at age 12 when he listened to Mozart's tape. "I wanted to share this moment with my parents."
"But I was afraid," Denk writes, "my dad would crack a joke, or my brother would think I was bragging, or my mom would ask me why I hadn't dusted the living room."
Denk emerges from memories as an endearing human. He is delighted to be kissed by Princess Diana (when he wins third prize in a contest).
"Why are you playing so loud? asks a man in the bathroom after he gave a concert in Munich.
You're happy with Denk when he finds love.
"Every Good Boy Does Fine" is one of the best memoirs I've read this year. It is never out of tune.
The Blade may earn commissions on qualifying purchases made through this publication.