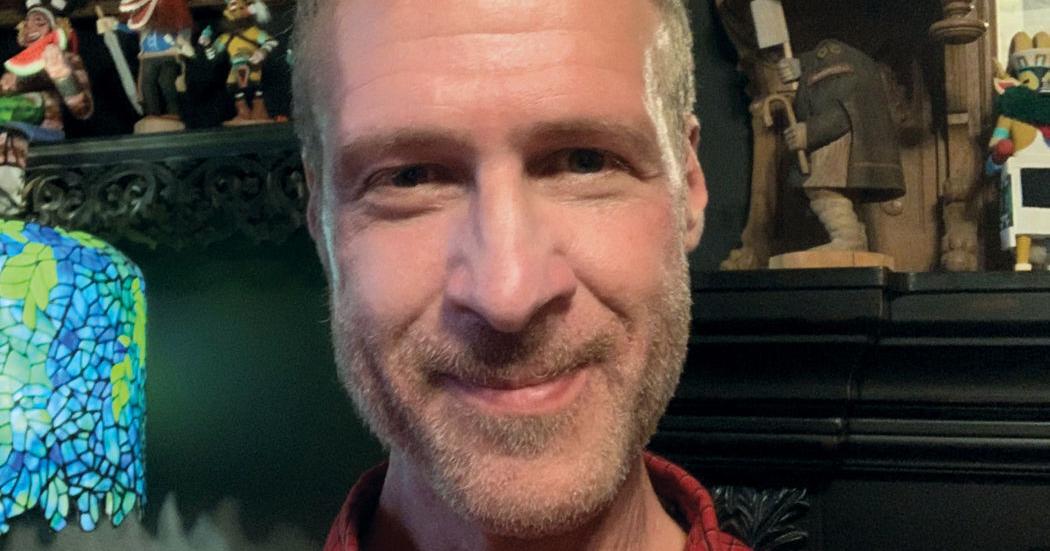 Elizabethtown worship leader has an eclectic musical background | Monday man
Frank Richmond has a musical background that ranges from classical to Motown and sacred sounds.
The 63-year-old was born in San Diego and knew as a kid he wanted to be an artist.
"Kindergarten classmates bought my drawings to make change," he said.
At age 7, Richmond began taking piano lessons upon discovering that Mozart was his hero. Later, he composes and studies the violin.
While vacationing across the country with his family while looking for a college, Richmond visited Yale University and knew that was where he wanted to go.
He was drawn to varied architectural styles, and he knew that Yale was world-class in every way.
"Since my biggest challenge in life has been choosing and focusing, Yale has provided me with a fantastic opportunity to keep my options open for as long as possible while exploring vigorously," he said.
At Yale, he majored in music and studied psychology.
He eventually became manager of Duke's Men of Yale and took part in musical productions as Don Quixote in "Man of La Mancha", Jean in "Rhinoceros", and Mikado in "The Mikado". He also published illustrations for a children's book.
He has composed and performed jazz, rock, blues, Broadway and rap.
At one point in his career, The Platters' manager called him when their keyboardist left the band. She was offered a plane ticket, lead sheets and a CD overnight. He had to play cold without rehearsal.
"I was so nervous that I drank four cups of coffee and was high on caffeine," he said. "But we got through the first song unscathed, ditto the second and then I started having fun."
He said lead singer Monroe Powell's voice was preserved as he sang "Smoke Gets in Your Eyes", "The Great Pretender" and "Unchained Melody".
"I felt like I was transported back in a time machine," he said.
After graduating from Yale, Richmond became the musical director of a professional melodrama and vaudeville theater in California, improvising piano accompaniments to Victorian melodramas like in silent movies.
In Quito, Ecuador, he toured internationally as a concert pianist, conducted the Guayaquil Symphony Orchestra, and played violin in the National Symphony Orchestra. He has also taught drama, English and music at the Academia Cotopaxi International School funded by the United States Department of State.
Upon his return to the United States, he began graduate scholarships at the University of Louisville, winning prizes in piano and composition as well as the Hankins Prize in Musicology. He also performed at Fourth Street Live with the Grammy-winning artists for Indigenous Peoples Day.
"Music is a strange paradox," he said. "It's highly stylized and contrived, the result of evolved cultural consensus and finite, measurable acoustic compromise, but it's somehow our most direct method of channeling the eternal."
Music, he says, has the power to open your soul to the divine, to break down boundaries and affirm infinity.
But for Richmond, the music ministry felt more natural. He worked 30 years as a musical director in various religious jobs and public schools. When the pandemic hit, schools and churches closed.
When the schools reopened he returned to work with the Jefferson County Public Schools and when the churches reopened he soon found a job at First Presbyterian Church in Elizabethtown.
"I feel the presence of God in my life every day as I compose, practice the piano and prepare myself in other ways for this new work that I have been guided into," he said.
Jim Barnard, former music director and choir member, said Richmond has brought a diversity of musical styles in his short time at church. He used traditional, classical, romantic, impressionist, jazz, and contemporary Christian hymns in church music. In February, Barnard said Richmond used spirituals and music by African-American composers during the service.
"Frank is an extremely talented pianist and he also conducts the choir while playing the accompaniment," he said. "He was a pleasure to work with and he brought new energy to the choir and the church."
Throughout the pandemic, Richmond said he received divine help in many ways. While unemployed, one of the ways he supported himself was painting an exterior mural at Bray Place in Louisville, a historic 1797 horse farm that is now Bashford Manor Inn, a bed and breakfast. His mural is what he imagined the farm to look like 200 years ago.
Rev. Chelsea G. Benham, pastor of First Presbyterian Church, said Richmond brings passion, creativity and commitment to music at the church.
"We're so lucky he makes the trip from Louisville every week," she said. "In just a few months, he has felt at home at church and is already working on projects that will enrich our worship in the months to come."
She said his knowledge of music shows how much he loves making music.
"It seems like for him, the beauty of music reflects the beauty of God and his music certainly points us to God," she said. "He is exceptionally good at making beautiful music, yet he is always incredibly approachable and seeks to include and uplift people of all levels"
Becca Owsley can be reached at 270-505-1416 [email protected]