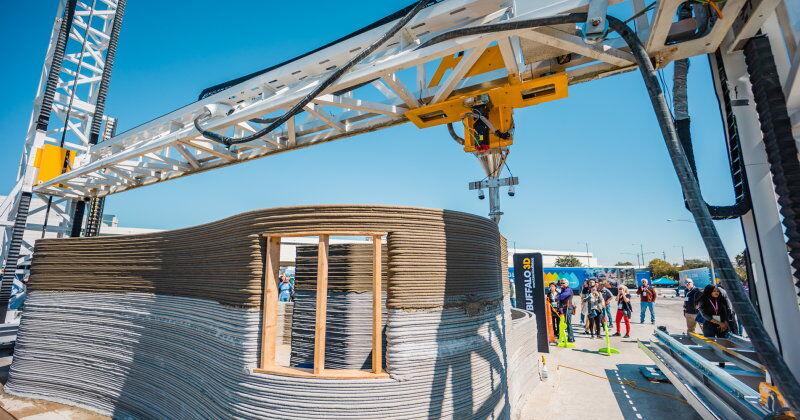 3D Printing Construction Company to Build With Hemp in Pennsylvania | Master Edition
Pennsylvania hemp supply chain reaches milestone as next-generation construction company sets up research and manufacturing operations in Monroe County.
Black Buffalo 3D Corp. plans to use hemp fiber in the cement-based mix it uses to 3D print buildings.
The company will assemble the industrial-scale printers, develop products and train customers on a 106-acre site it purchased in Smithfield Township, just outside East Stroudsburg.
The nonprofit arm of the National Hemp Association will also conduct research on 20-25 acres to advance the role of hemp in the construction industry.
"It's going to be huge," said association president Geoff Whaling. "Huge."
Black Buffalo sells 3D construction printers and produces a proprietary mixture, called ink, which the printer turns into the desired shape.
Black Buffalo's ink is stronger than concrete and used for structural parts of the building, such as walls. Hemp would replace a material in the mix that is less environmentally friendly to produce.
"We could have chosen a lot of different materials and green building products, but it seems (hemp is) the easiest to grow," said Peter Cooperman, a spokesman for Black Buffalo.
3D printing a building requires large equipment.
The printer that Black Buffalo sells now produces forms up to 27 feet tall, or two or three stories.
The base model can print nearly 700 square feet but can be expanded to more than double.
The printer is built on a rail system, so it could produce a set of townhouses simply by going down a set of tracks, essentially ad infinitum, Cooperman said.
The company recently held its first public display at a builders' show in Orlando, printing a tiny house.
And while many large-format 3D printers have to shut down after half a dozen coats to let the ink dry, Black Buffalo's ink is designed to keep the machine running continuously. The loop should take about two minutes, Cooperman said.
Black Buffalo ran its printer for 16 hours straight. At its current rate, the machine could produce the exterior and interior walls of a 1,600 square foot building in 30 hours.
"You can get more done and you can work multiple shifts without even turning the machine off overnight, and reap the benefits of efficiency and zero waste," Cooperman said.
The machine only pumps out excess ink at the start of a print – when consistency is checked – and at the end of the job.
Even then, Cooperman said, Black Buffalo has determined how much excess will be produced, so the material can be used for things other than load-bearing walls.
A 3D-printed community would likely have benches, tables, planters, and statues made from leftover ink.
Major investment
Black Buffalo's investment in the hemp supply chain is one of the largest in Pennsylvania to date.
The company will invest $36 million in the project and create 71 jobs within three years, according to the Ministry of Community and Economic Development.
The agency offered Black Buffalo a $2.4 million loan and $426,000 in grants as incentives for expansion.
Black Buffalo, which has an existing plant in Elizabeth, New Jersey, is part of Big Sun Holdings, whose majority shareholder comes from the South Korean family that founded car company Hyundai. Black Buffalo and Hyundai are not affiliated.
The Black Buffalo complex near East Stroudsburg could become a kind of hemp business park.
In addition to having a 150,000 square foot manufacturing facility and training center and housing the research work of the Hemp Innovations Foundation, Black Buffalo plans to collaborate with local schools and even 3D print affordable housing on site.
The company is still working on zoning for some of its ideas, Cooperman said.
The company will also need farmers producing hemp fiber.
For its initial experimentation with harvesting, Black Buffalo will need hemp with specific qualities to maintain structural integrity and ensure the ink flows properly through the 3D printer.
With the help of the National Hemp Association, Black Buffalo spoke with several companies about sourcing hemp. The company would like to use crops grown in the United States, Cooperman said.
Whaling of the National Hemp Association worked out a potential supply deal with farmers who lease land in the Delaware Water Gap National Recreation Area, which is a few miles from the Black Buffalo complex.
The 3D printing construction industry is still young, but it could be big. Cooperman said a company received 100 inquiries an hour after speaking to the media about its printing of multiple homes with cement-based ink.
"As soon as we finish this product, we expect demand to pretty much explode," he said.
Whaling believes Black Buffalo's investment is just the beginning of hemp's emergence as a building material.
Whaling is in communication with several cement companies, including major player Lehigh Hanson. He sees hemp fiber as a potential substitute for rebar in cement, a material for home insulation, an additive in road repairs and a pellet fuel that could reduce the use of fossil fuels by the industry. cement industry.
Cement production is responsible for 8% of global carbon dioxide emissions, according to think tank Chatham House.
Black Buffalo also has a plan to reduce CO2 emissions.
After integrating hemp into existing printing equipment, the company wants to develop an ink with a lime-based binder.
The lime absorbs carbon dioxide as it hardens, so the ink will trap the greenhouse gas coming out of the hemp fiber instead of releasing it into the atmosphere, Cooperman said.
Whaling expects 3D printing to increase efficiency in the construction industry, not just in building homes.
Companies could cut transportation costs by producing massive forms for tunnels and bridges locally, rather than transporting them from distant factories.
"Every major construction site should have a 3D printer there," Whaling said.